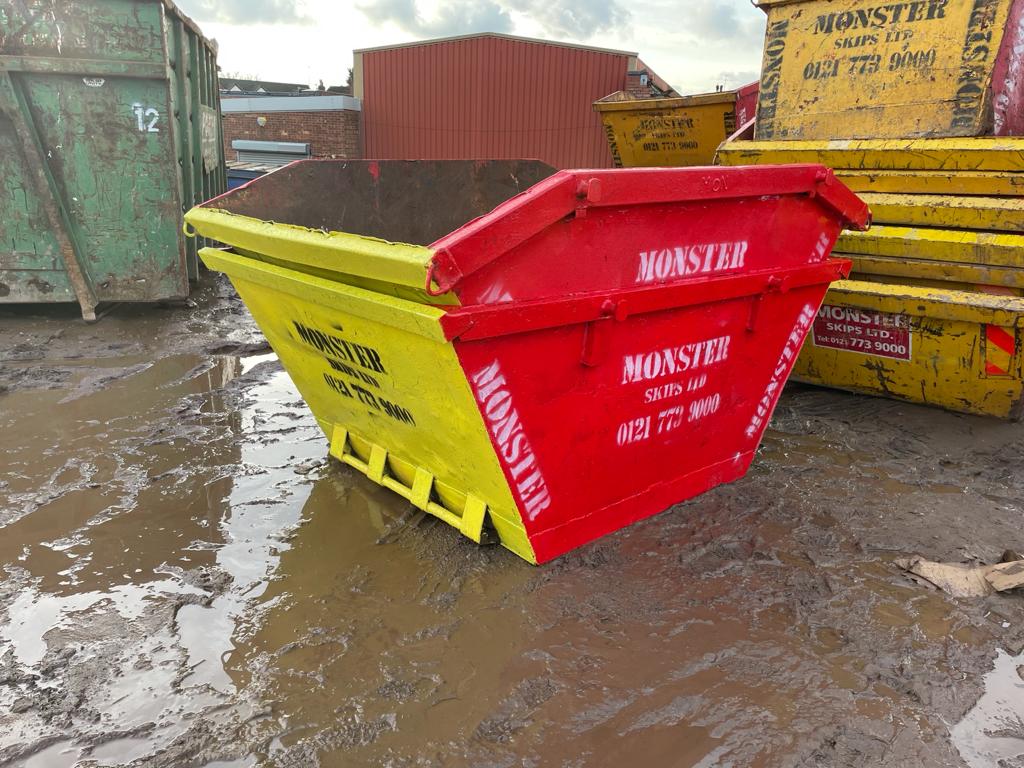 What can't you put in a skip
There are certain rules and regulations regarding skips in order to keep people, animals and the environment safe. As a general rule of thumb, you should trust your instincts- If you think it might not go in a skip it probably doesn't! Prohibited items mainly include items that are toxic products and electrical waste. Skip contractors could get fined up to £1000 if prohibited items are found in skips, so it's important to stick to the rules! Read on to find out more about what you can't put in a skip! 
What can't you put in a skip?
Paint, fuel and solvents

– You cannot put paint, fuel or solvents in a skip. You can however put empty paint tins inside a skip. You can contact your local council for disposal advice. 

Mattresses

– Mattresses need to be disposed of separately, so you cannot place them in your skip. This is due to the varying materials in the mattress.

Plasterboard

– You cannot put plasterboard or any other gypsum waste as it is toxic. 

Tyres

– You cannot place these in a skip. Instead, you can DIY and reuse it in your home as bedding for plants- if DIY isn't your preference, you can contact the tyre recovery agency. Additionally, you can ask your tire fitter if they can dispose of it for you.

Fluorescent bulbs

– Believe it or not these specific bulbs contain mercury which is extremely toxic and dangerous to people, animals and the environment. Ask your local council where the nearest recycling centre is for this type of waste.

Batteries

– Batteries contain chemicals like lead and they, therefore, cannot be placed in a skip. 

WEEE waste

– WEEE stands for waste electrical and electronic equipment. What can't you put in a skip includes microwaves, electric cookers, fridges, freezers, dishwashers, televisions and more. These cannot go in a skip, you can take them to a registered WEEE recycling unit in your area. 

Medical waste

– You cannot put medical waste in a skip as it can be harmful to animals. You can ask your local council for a licensed medical waste company in your area. 

Asbestos

– You cannot recycle asbestos which is why a licenced asbestos removal contractor is the only option. 

Gas cylinders

– What can't you put in a skip definitely includes gas cylinders. Whether the cylinder is completely empty or not, it is still not acceptable to place them in skips. You can either refill your cylinder and reuse it or ask your local council for the nearest company that disposes of them. 

Plasterboard/mix

– The plasterboard gives off gases that you cannot see. These gases are harmful and are not good for the environment, meaning they need to be disposed of correctly. If you visit the Waste & Resources action programme website, you should be able to find where the nearest recycling plant is for plasterboard. 
What can you put in a skip? 
Wood

Tiles

Furniture

Paper

Cardboard

Garden Waste

Clothes

Bricks

Concrete

Metals

Pottery 

Clay

Rubble 

Stones 
We hope you've enjoyed our blog on 'What can't you put in a skip'. If you're looking for a skip in Birmingham and the surrounding area, get in touch with us here at Monster Skips today!